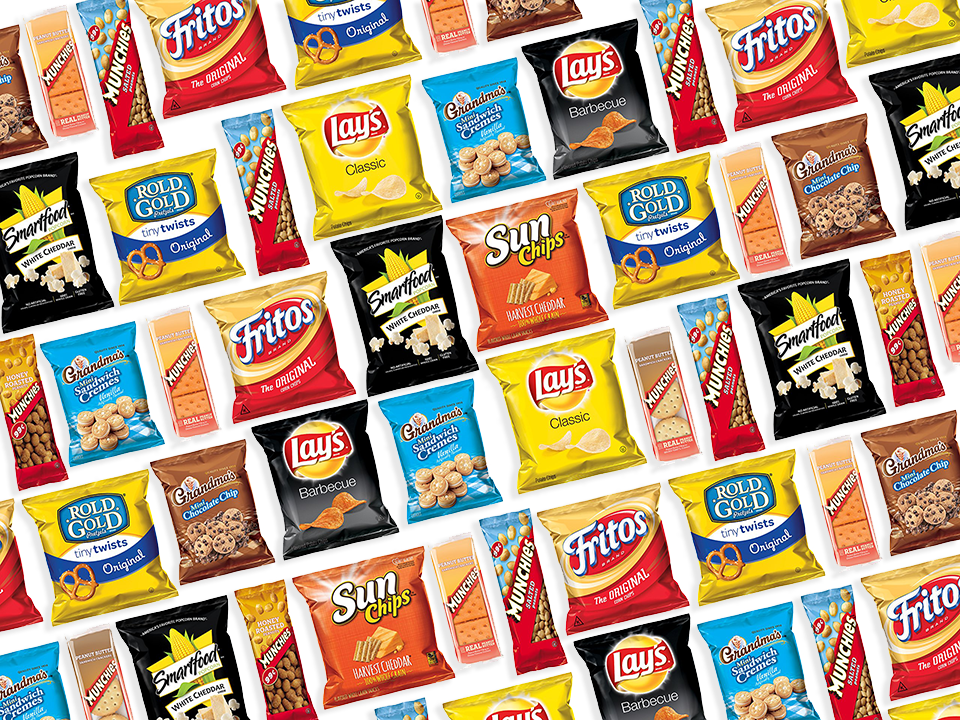 We stock the products your
employees know and love.
Quality, selection, nutritious choices... we cover all of the bases to satisfy every craving, ensuring you, your employees, and/or your customers have a wide variety of choices in name-brand snacks and beverages, fresh and readily available, each and every day. Express Vending is a leader in healthy vending solutions, working alongside company wellness teams and using the latest advances in vending products and technology to support our customers' requests for sustainable vending options. We regularly evaluate and update our healthy, fresh food, snack, and beverage offerings to stay ahead of healthy, flavorful snacking trends.
Looking for quality, convenience, and service?
Drop us a line today to learn what our solution-focused approach can do for your business.
---
Frito Lay
29 snack brands, 55,000 dedicated Frito-Lay employees, and enough potatoes per year to reach to the moon and back. (If they were stacked end to end.) Frito Lay isn't kidding when they say they go the extra mile to bring you your favorite snacks.
---
Bimbo
Bimbo Bakeries USA is a leader in the baking industry, known for its category-leading brands, innovative products, freshness, and quality. As part of Grupo Bimbo, the world's largest baking company, BBU is proud to share the company philosophy.
---
Mrs. Freshley's
Mrs. Freshley's® entered the vending market with a focus on baking fresh, tasty products. Soon, the line was introduced to retail stores and expanded the brand to include more than 50 different delicious snack cakes and pastries.
---
Coca-Cola
Since its birth at a soda fountain in downtown Atlanta, Georgia, in 1886, Coca-Cola has been a catalyst for social interaction and inspired innovation. Of course, Coca-Cola is the umbrella under which a wide variety of iconic American brands reside.
---
Pepsi
Your beverage choices change by the day and sometimes by the hour. PepsiCo is there for you every sip of the way, offering the variety of beverages you want, ingredients you trust, and package sizes that fit your lifestyle. It's all about choice.
---
Dr. Pepper
Dr. Pepper is one of North America's leading refreshment beverage companies, manufacturing, bottling, and distributing more than 50 brands of carbonated soft drinks, juices, teas, mixers, waters, and other premium beverages.
---
Dolly Madison
Reintroduced for distribution in the vending and micro market channel, Dolly Madison offers the same great quality consumers have depended on since the brand first started in 1937, now with an expanded roster of treats.
---
M&M Mars
When you make brands that put smiles on people's faces, you feel a sense of pride in your work. Today, Mars-Wrigley's iconic products like M&M'S®, SNICKERS®, ORBIT®, EXTRA® and Skittles® are enjoyed in more than 180 countries.
---
Jack Link's
Whenever you rip open a bag of Jack Link'sTM meat snacks, you get a taste of American tradition: a family-owned business that grew from hard work, high-quality products, a sense of community, and a little fun.
---
Nature Valley
Nature Valley doesn't just offer one granola bar. They offer a full line of bars, snacks, and granola available on-the-go to inspire people to connect with nature. Because they don't take the "nature" in their name lightly.
---
General Mills
A rabbit, a leprechaun and a little giggly guy in a baker's hat walk into a grocery store... Yup. They all did. And a few others. Join the fun behind just some of General Mills' many brands!
---
Kellogg's
Kellogg's produces a wide variety of foods, including crackers and toaster pastries. Their products include several well-known brands, including Pringles, Eggo, and Cheez-It. "Nourishing families so they can flourish and thrive."
---
Keebler
They've added more real chocolate to Chips Deluxe, made Fudge Stripes cookies with only real Keebler fudge, and baked real Madagascar vanilla into Sandies Shortbread."A little elfin magic goes a long way."